Translate this page into:

doi:
10.25259/CSDM_6_2021
Fillers for aesthetics on the face – Newer perspectives
Dermatology

,

Mehektagul Dermaclinic, Safdarjung Enclave, New Delhi-110029, Delhi

,

India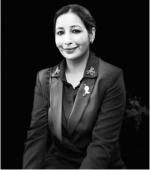 *
Corresponding author: Gulhima Arora Dermatology, Mehektagul Dermaclinic, Safdarjung Enclave, New Delhi-110029, Delhi-India gulhima@gmail.com
Received: , Accepted: ,
© 2021 Published by Scientific Scholar on behalf of Cosmo Derma
Licence
This is an open-access article distributed under the terms of the Creative Commons Attribution-Non Commercial-Share Alike 4.0 License, which allows others to remix, tweak, and build upon the work non-commercially, as long as the author is credited and the new creations are licensed under the identical terms.
How to cite this article: Arora G. Fillers for aesthetics on the face – Newer perspectives. Cosmoderma 2021;1:6.
Abstract
Dermal fillers are a cornerstone of the aesthetic treatments of the face. They have evolved over many aspects since their initial use. Facial fillers are not just used for anti-aging to restore volume, but are now also used for contouring, enhancing facial features, and changing the emotional attributes of the face. Newer techniques and approaches have been proposed for greater predictability of results and minimum complications. Newer composite filler materials and a resurgence of older materials have taken place with better understanding of the science behind them. With more use of facial fillers comes the reporting of newer complications with recommendations and guidelines to avoid them. A new perspective is seen in guidelines for their use in the COVID-19 pandemic. This article is a review of the insight into the latest perspectives of facial fillers for aesthetic indications.
Keywords
Derma fillers
Aesthetics
New advances
Techniques
Filler complications
INTRODUCTION
The use of minimally invasive techniques to prevent and counter signs of aging has been in increasing demand in the last decade. Youthfulness is synonymous with a well-balanced, contoured face, with adequate volume and good skin elasticity.[1] Dermal fillers are one such modality to restore youthfulness and their use is the second most common cosmetic procedure undertaken worldwide.[2]
Just as the concepts of aging are evolving, so is the understanding and use of dermal fillers.[3]
The cosmetic use of dermal fillers is to restore the volume of the aged face for contouring and lifting to an extent.[4] They are now regarded as smart implants and are used as scaffolds in regenerative medicine.[5] Their use in medical aesthetics is being increasingly explored.[6]
As cadaveric studies give an in-depth knowledge of the facial anatomy, safe injection practice thus shifts with each published report, as does the injecting technique.
Newer insights into the complications with greater reporting, newer methods adopted to increase the clinical longevity, safer materials with biostimulatory properties, standardization of techniques for predictable clinical outcomes all focus on the latest science that backs dermal fillers. This article focuses on the newer perspectives of dermal fillers used for cosmetic indications on the face.
Declaration of patient consent
Patient's consent not required as there are no patients in this study.
Financial support and sponsorship
Nil.
Conflicts of interest
There are no conflicts of interest.
References
Indian J Dermatol Venereol Leprol

. 2013;79:

3

.

Age reversing modalities: An overview.

Cosmoderma. 2021;1:1.

Changing face of dermatology-A paradigm shift.

J Cosmet Dermatol. 2019;18:1237-43.

Lifting vs volumizing-The difference in facial minimally invasive procedures when respecting the line of ligaments.

Cell Adhes Migr. 2009;3:390-4.

Interface biology of implants.

Indian J Dermatol Venereol Leprol. 2021;87:1-2.

Recognizing "medical aesthetics" in dermatology: The need of the hour.

J Microbiol Biotechnol. 2015;25:399-406.

A composite dermal filler comprising cross-linked hyaluronic acid and human collagen for tissue reconstruction.

Sci Rep. 2020;10:5127.

Comparative evaluation of the effectiveness of novel hyaluronic acid-polynucleotide complex dermal filler.

J Biomater Appl. 2016;31:464-74.

Long-lasting and bioactive hyaluronic acid-hydroxyapatite composite hydrogels for injectable dermal fillers: Physical properties and in vivo durability.

Plast Reconstr Surg-Glob Open. 2019;7:e2160.

Consensus recommendations for the use of hyperdiluted calcium hydroxyapatite (radiesse) as a face and body biostimulatory agent.

Dermatol Surg. 2018;44:S5-9.

In vitro analysis of the degradation of calcium hydroxylapatite dermal filler: A proof-of-concept study.

Clin Cosmet Investig Dermatol. 2020;13:701-10.

Effect of hyaluronic acid and poly-L-lactic acid dermal fillers on collagen synthesis: An in vitro and in vivo study.

J Drugs Dermatol. 2013;12:e46-52.

The evaluation of hyaluronic acid, with and without lidocaine, in the filling of nasolabial folds as measured by ultrastructural changes and painmanagement.

J Cutan Aesthetic Surg. 2015;8:134-8.

The liquid lift: Looking natural without lumps.

Dermatol Surg. 2019;45:117-23.

Mixing of injectable fillers: A national survey.

Polymers. 2021;13

Toward physicochemical and rheological characterization of different injectable hyaluronic acid dermal fillers cross-linked with polyethylene glycol diglycidyl ether.

Aesthetic Plast Surg. 2021;45:690-709.

MD CodesTM: A methodological approach to facial aesthetic treatment with injectable hyaluronic acid fillers.

Indian J Plast Surg. 2020;53:230-43.

The facial shapes in planning the treatment with injectable fillers.

J Clin Aesthetic Dermatol. 2020;13:61-6.

STOP Facial Aging MethodTM: A new protocol for facial rejuvenation.

J Cosmet Dermatol. 2021;20:6-17.

Recommendations for the treatment of tear trough deformity with cross-linked hyaluronic acid filler.

Plast Reconstr Surg Glob Open. 2021;9:e3332.

A safe and effective lip augmentation method: The step-by-step F (Phi) technique.

J Clin Aesthetic Dermatol. 2021;14:E61-3.

Lip augmentation using hyaluronic acid filler and a 4-mm needle: A safer, more natural, and predictable approach.

Plast Reconstr Surg Glob Open. 2020;8:e3318.

Hyaluronic acid filler injection technique in multiple layers of the nasolabial fold.

Plast Reconstr Surg Glob Open. 2020;8:e2763.

Better results in facial rejuvenation with fillers.

Aesthetic Plast Surg. 2018;42:798-814.

Myomodulation with injectable fillers: An innovative approach to addressing facial muscle movement.

Aesthetic Plast Surg. 2020;44:1317-9.

Myomodulation with injectable fillers: An update.

Plast Reconstr Surg Glob Open. 2020;8:e3219.

Expert consensus on hyaluronic acid filler facial injection for Chinese patients.

J Am Acad Dermatol. 2011;64:S66-85, S85.e1-136

Facial soft-tissue fillers conference: Assessing the state of the science.

Aesthet Surg J. 2021;41:NP134-6.

Neither positive nor negative aspiration before filler injection should be relied upon as a safety maneuver.

J Clin Aesthetic Dermatol. 2020;13:29-31.

Herpes zoster as a differential diagnosis for ischemia after facial hyaluronic acid filler.

Clin Cosmet Investig Dermatol. 2019;12:277-83.

Delayed hypersensitivity reaction to hyaluronic acid dermal filler following influenza-like illness.

Skin Appendage Disord. 2019;5:396-400.

Alopecia secondary to hyaluronic acid embolization: Trichoscopic findings.

Cureus. 2021;13:e12929.

Lymphangioma formation following hyaluronic acid injection for lip augmentation.

Aesthetic Plast Surg. 2017;41:667-77.

Preventing the complications associated with the use of dermal fillers in facial aesthetic procedures: An expert group consensus report.

J Clin Aesthetic Dermatol. 2020;13:37-43.

Case series and review on managing abscesses secondary to hyaluronic acid soft tissue fillers with recommended management guidelines.

Aesthet Surg J. 2013;33:1167-74.

The role of hyaluronidase in the treatment of complications from hyaluronic acid dermal fillers.

J Ultrason. 2021;20:e261-7.

High frequency ultrasound assessment of labial glands simulating small nodules or granulomas after lip augmentation.

Indian J Dermatol Venereol Leprol. 2016;82:112.

Facial cellulitis and Ludwig's angina associated with calcium hydroxylapatite injection in an immunocompetent patient.

J Drugs Dermatol. 2016;15:1142-3.

Successful treatment of calcium hydroxylapatite nodules with intralesional 5-fluorouracil, dexamethasone, and triamcinolone.

Aesthetic Plast Surg. 2019;43:1061-70.

Concomitant use of hyaluronic acid and laser in facial rejuvenation.

Dermatol Surg. 2016;42:586-97.

Consensus recommendations for combined aesthetic interventions in the face using botulinum toxin, fillers, and energy-based devices.

Dermatol Surg. 2020;46:475-82.

Repeated full-face aesthetic combination treatment with abobotulinumtoxinA, hyaluronic acid filler, and skin-boosting hyaluronic acid after monotherapy with abobotulinumtoxinA or hyaluronic acid filler.

Aesthet Surg J. 2018;38:540-56.

Impact of comprehensive, minimally invasive, multimodal aesthetic treatment on satisfaction with facial appearance: The HARMONY study.

J Drugs Dermatol. 2018;17:19-28.

The male aesthetic patient: Facial anatomy, concepts of attractiveness, and treatment patterns.

Plast Reconstr Surg. 2016;137:1410-23.

Global aesthetics consensus: Hyaluronic acid fillers and botulinum toxin type A-recommendations for combined treatment and optimizing outcomes in diverse patient populations.

Plast Reconstr Surg-Glob Open. 2016;4:e842.

Universal and ethnic-specific considerations on facial rejuvenation: Where do you inject your fillers?

Plast Reconstr Surg Glob Open. 2019;7:e2220.

Consensus opinions on facial beauty and implications for aesthetic treatment in middle eastern women.

Clin Cosmet Investig Dermatol. 2021;14:169-78.

Whole-face approach with hyaluronic acid fillers.

Clin Cosmet Investig Dermatol. 2021;14:197-207.

Characteristics of patients seeking and proceeding with non-surgical facial aesthetic procedures.

Indian Dermatol Online J. 2020;11:534-9.

Safer practice of aesthetic dermatology during the COVID-19 pandemic: Recommendations by SIG aesthetics (IADVL Academy)

J Maxillofac Oral Surg. 2020;19:159-61.

Maxillofacial surgery and COVID-19, The Pandemic !!

N Engl J Med. 2020;383:1920-31.

An mRNA vaccine against SARSCoV-2-Preliminary report.
Guidance 2. Regarding SARS-CoV-2 mRNA vaccine side effects in dermal filler patients.
Show Sections