Translate this page into:

doi:
10.25259/CSDM_8_2022
Botulinum toxin beyond aesthetics in dermatology
1
Gulhima Arora, Dermatology, Mehektagul Dermaclinic, Safdarjung Enclave

,

New Delhi, Delhi

,

India

*
Corresponding author: Gulhima Arora, Dermatology, Mehektagul Dermaclinic, Safdarjung Enclave, New Delhi, Delhi, India. gulhima@gmail.com
Received: , Accepted: ,
© 2022 Published by Scientific Scholar on behalf of CosmoDerma
Licence
This is an open-access article distributed under the terms of the Creative Commons Attribution-Non Commercial-Share Alike 4.0 License, which allows others to remix, transform, and build upon the work non-commercially, as long as the author is credited and the new creations are licensed under the identical terms.
How to cite this article: Arora G. Botulinum toxin beyond aesthetics in dermatology. CosmoDerma 2022;2:15.
Abstract
Botulinum toxin is a purified protein that was first used in the 1970s for strabismus, a non-cosmetic indication. Increasing knowledge and understanding of the product has led to its use for various indications other than cosmetic ones. It is used in many fields of medicine. This review aims to present the various indications beyond aesthetics in the realm of dermatology with its postulated mechanism of action for which the toxin has been used with success and the technique of administration for a few common dermatological indications.
Keywords
Botulinum toxin
Non-aesthetic indications
Post herpetic neuralgia
Hyperhidrosis
Alopecia
INTRODUCTION
Botulinum toxin (BT) is well-known as the "poison that heals" and not without reason. The beneficial effect of BT for cosmetic indications mostly dynamic wrinkles is well established,[1] backed by both scientific literature and evidence-based medicine.[2] Scientific academia is filled with benefits of this purified protein for non-cosmetic indications as well. In fact, its first use was for strabismus and not for a cosmetic indication.[3] Ever since its approval in 2002 by the US FDA for cosmetic indications, its evidence-based therapeutic use for non-cosmetic indications is well documented and spans the specialties of urology, otolaryngology, gynecology, ophthalmology, plastic surgery, neurology, and dermatology [Table 1]. It has been used for various indications in the head and neck like laryngeal dystonia, vocal tics, stuttering, blepharospasm, hemifacial spasm, rhinitis, facial nerve paresis to name a few.[4] Of special note is its use in pain. It has been used as a successful prophylactic treatment of migraine where it is injected into the muscles innervated by the trigeminal and facial nerves.[5] Masticatory myalgia and trigeminal neuralgia are other painful conditions the toxin has been used for.[4] In surgery, it has been used for skeletal muscle hyperactivity disorders, abdominal wall reconstruction, prosthetic breast reconstruction among other indications.[6]
| Dermatological condition | |
| --- | --- |
| Disorders of eccrine glands | Hyperhidrosis[7] |
| | Eccrine hydrocystomas |
| | Eccrine angiomatous hamartoma |
| | Pitted keratolysis |
| | Chromhidrosis |
| | Hailey-Hailey disease[8] |
| | Dyshidrotic eczema[9] |
| Disorders of apocrine glands | Hidradenitis suppurativa[10] |
| | Bromhidrosis |
| Disorders of striated muscles | For unopposed muscle action in facial palsy[11] |
| Disorders associated with pain | Post-herpetic neuralgia[12] |
| | Leiomyoma associated pain |
| | Notalgia paresthetica |
| | Telalgia |
| | Raynaud's phenomenon |
| Disorders associated with Itching | Brachioradial pruritus |
| | Vulvodynia |
| | Lichen simplex chronicus |
| Hair disorders | Androgenetic alopecia[13] |
| | Trichodynia[14] |
| Scars | Traumatic/surgical scar remodeling[15] |
| | Hypertrophic scars/keloids |
| | Acne scars (hypertrophic) |
| Others | Inverse psoriasis |
BT has been used for several indications other than cosmetic ones in dermatology as well.
Mechanism of action
The basic mechanism of action of BT is chemical denervation or preventing the release of acetylcholine into the synaptic cleft. Upon injection into the skin or muscle, the heavy chain binds to the receptors on the cholinergic nerve endings. This is followed by endocytosis of the molecule and attachment of the light chain to the soluble N-ethylmaleimide-sensitive fusion (SNARE complex) protein receptors after getting cleaved from the heavy chain. The SNARE is composed up of three protein receptors namely, synaptobrevin (VAMP), synaptosome associated protein (SNAP-25), and syntaxin. BT type A cleaves SNAP 25 and BT Type B cleaves synaptobrevin. The binding of BT to these receptor proteins prevents the attachment of acetylcholine vesicles to the nerve endings and its further release into the synaptic cleft.[16,17]
The effects of BT on various muscles, glands, and pathways that bring about therapeutic activity in dermatological conditions are outlined below.
Administration techniques of Botulinum toxin for various indications:
Androgenetic alopecia: A dilution of 1ml of saline for 100 U is used. A total dose of 150 U has been used over 30 sites with 5 U injected at each site. The injections are intramuscular in the frontalis, occipital, temporalis, and periauricular muscle sites[13] [Figure 1].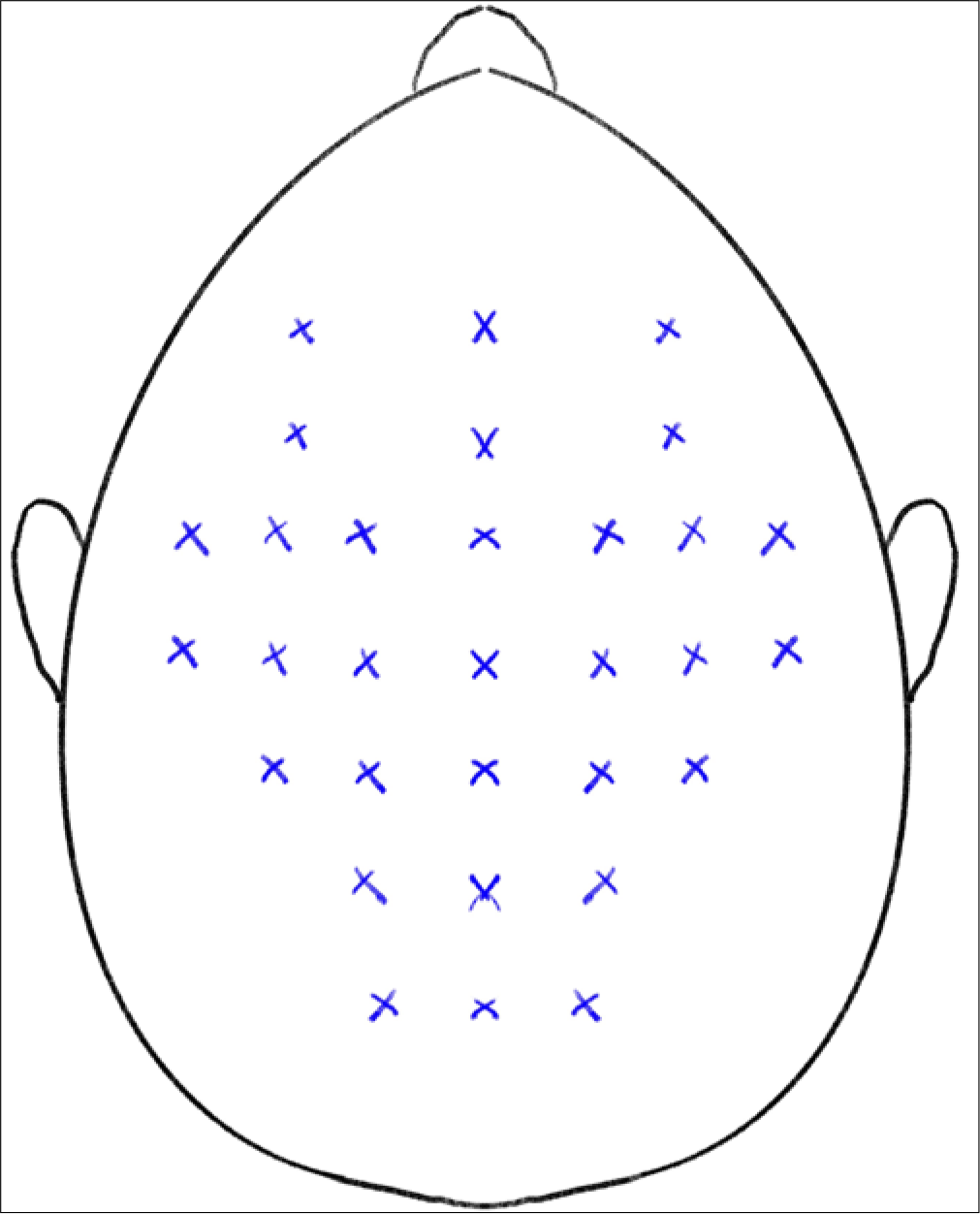 Post-herpetic neuralgia: A dilution of 20 ml in 100 U is taken. Injections are given 1–2 cm apart at sites of tactile allodynia for a maximum of 200 U. The injections are subcutaneous or intradermal[28] [Figure 2].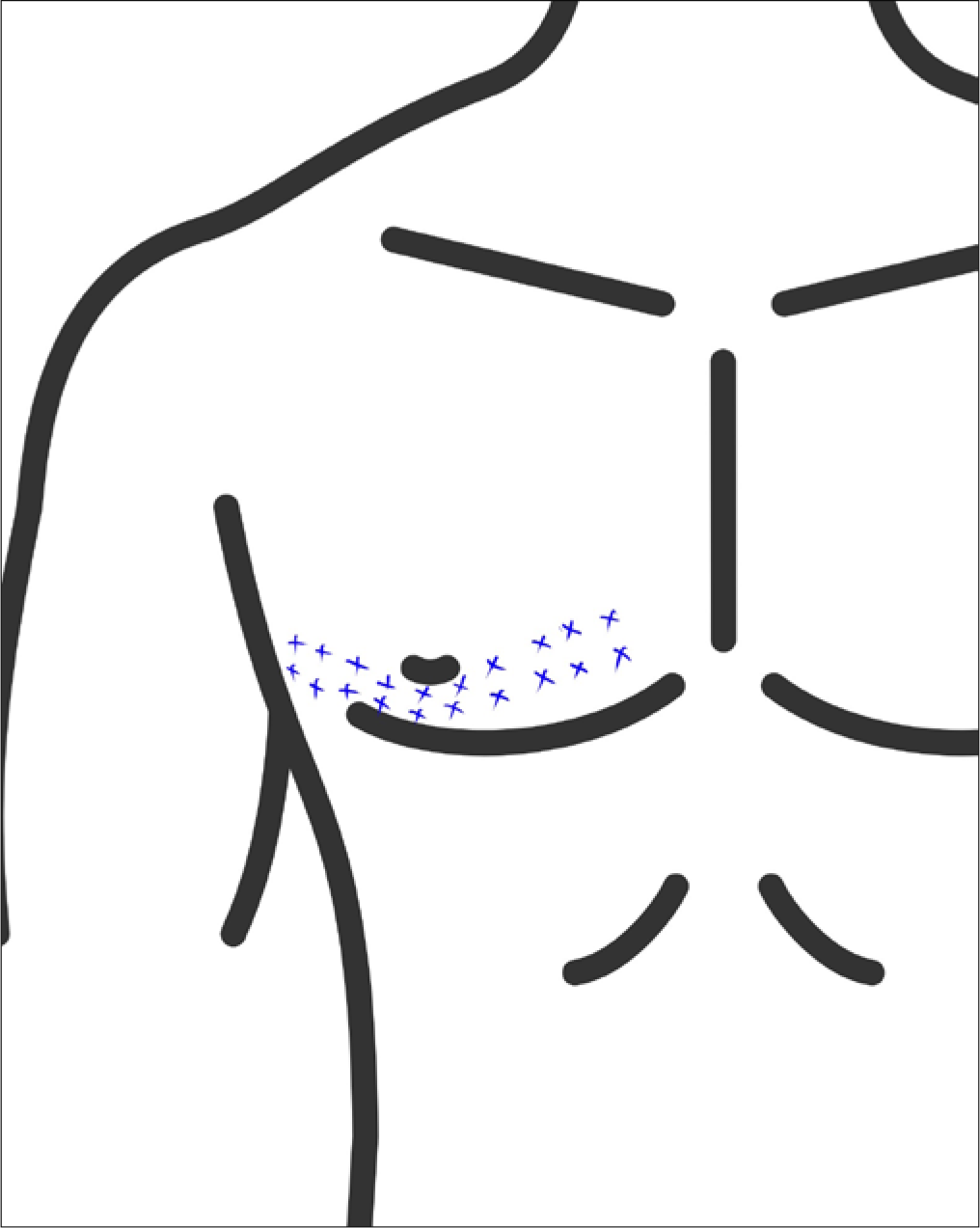 Palmar hyperhidrosis: About 100 U are diluted with 5 ml of preservative-free saline. The injections are superficially injected in a grid-like fashion intradermally with a maximum dose of 100 U per palm.[29] Nerve blocks may be given to alleviate the pain. The area of hyperhidrosis may be delineated with a starch iodine test. Care must be taken to include the medial and lateral aspects of the fingers [Figure 3].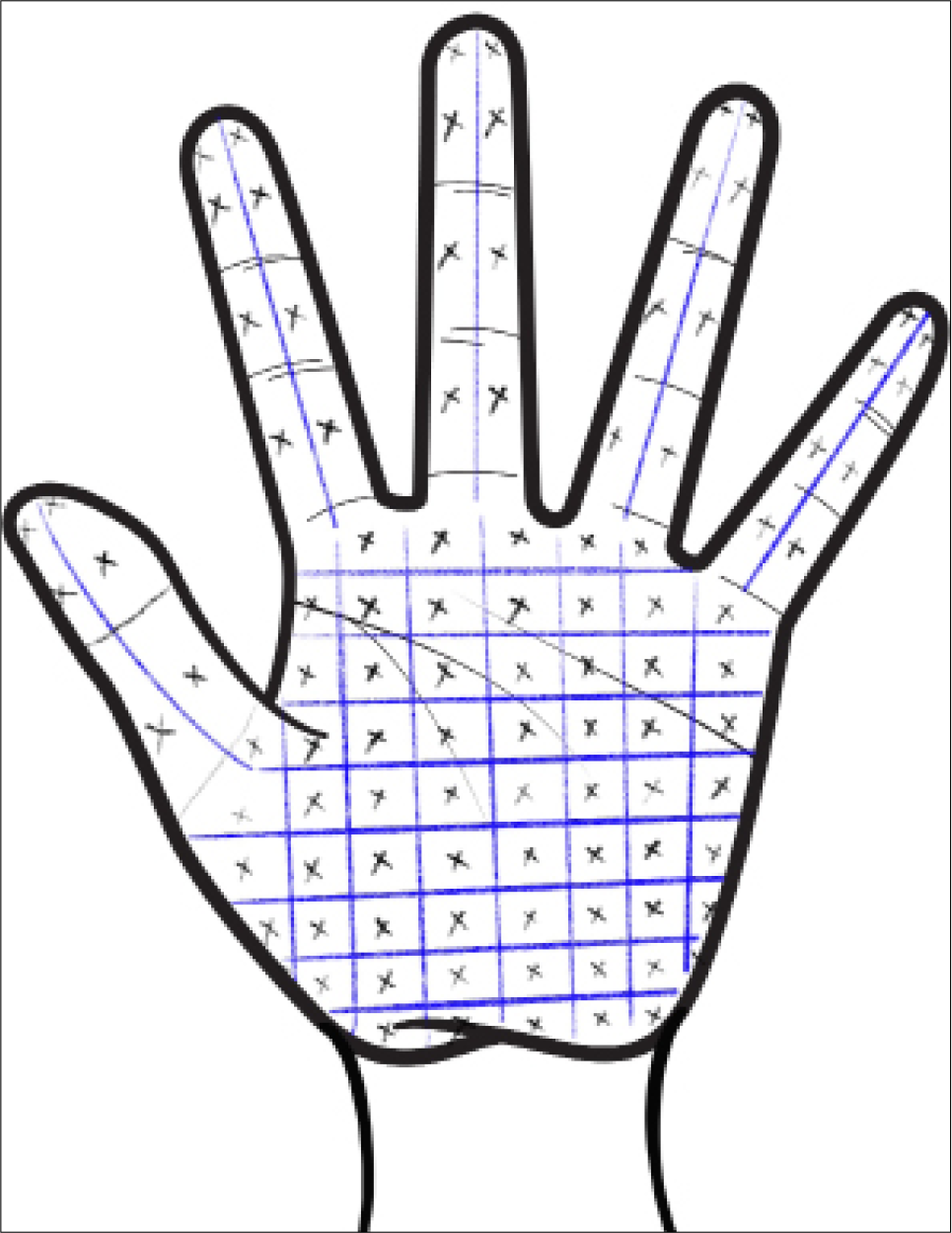 Axillary hyperhidrosis: The dilution is the same as axillary hyperhidrosis. The total number of units to be injected is 50 for each axilla. The injection technique is the same as for palmar hyperhidrosis[29] [Figure 4].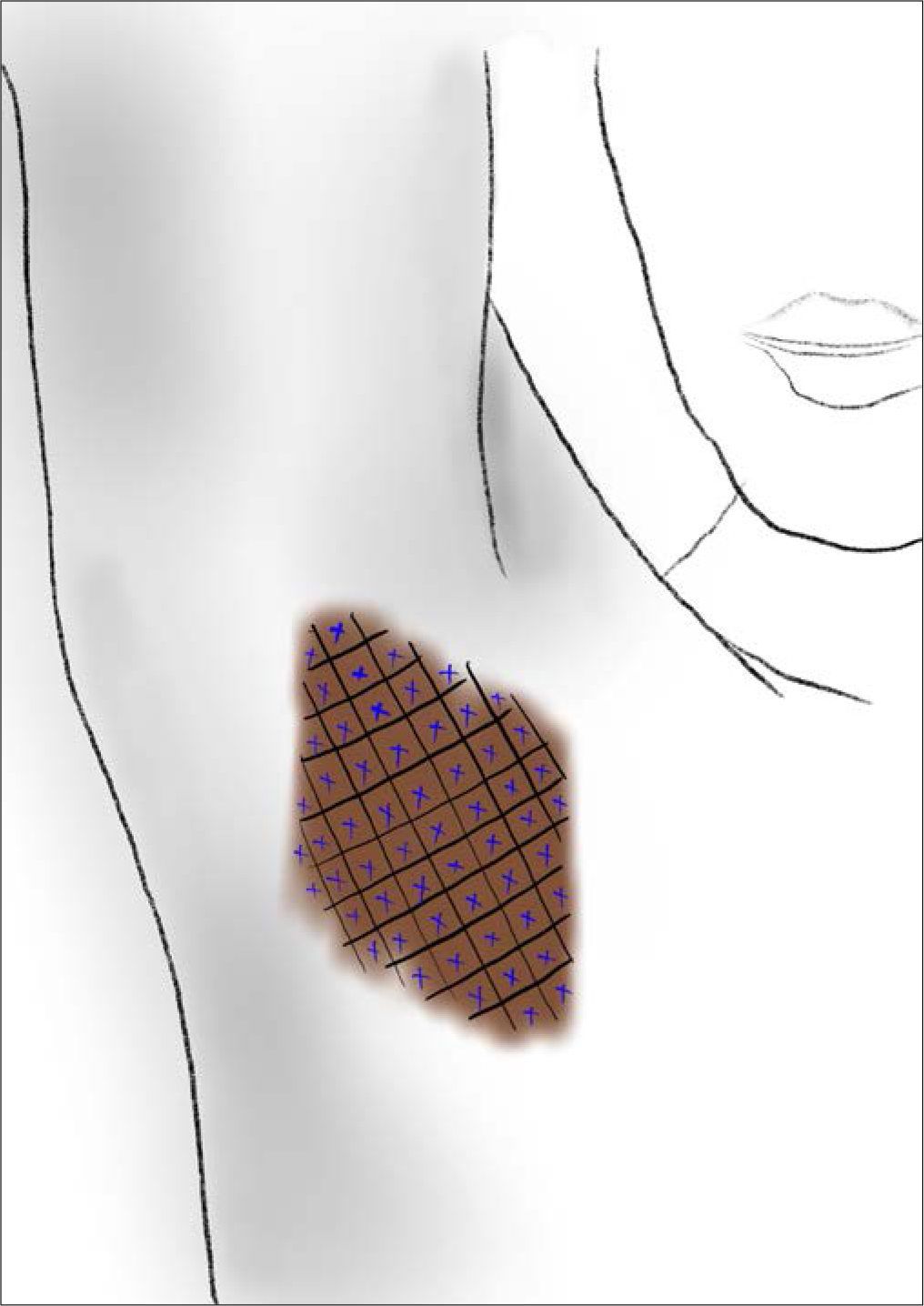 Scars: A dilution of 1.25 ml saline in 100 U is taken. The injections are given intradermally 1 cm apart 0.5 mm away from the scar along the entire scar[15] [Figure 5].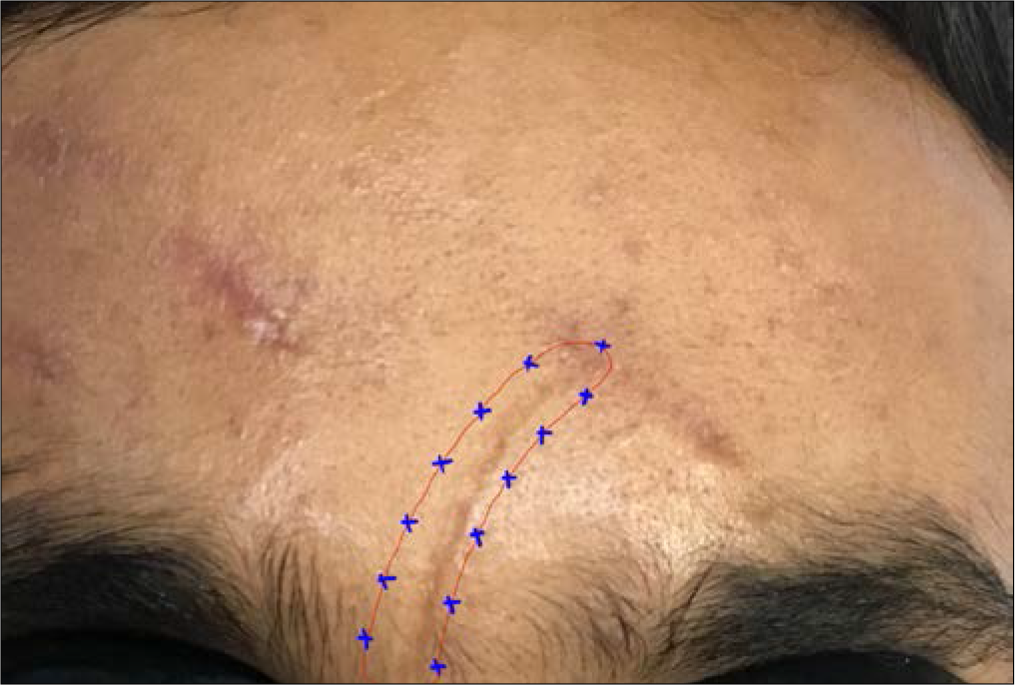 Keloids: Intralesional BT can be injected into keloids up to 100 U 1 cm apart. Combinations with 5 fluorouracil and triamcinolone 20 mg/ml may be used.[30]
CONCLUSION
BT is increasingly being used for a lot of indications other than cosmetic ones. Its use as a therapeutic modality for non-aesthetic conditions in dermatology must be encouraged and the same should be included in the training curriculum for dermatology residents to better equip them with this modality of treating various indications.
Declaration of patient consent
Patient's consent not required as there are no patients in this study.
Financial support and sponsorship
Nil.
Conflict of interest
There are no conflicts of interest.
Show Sections