Translate this page into:

doi:
10.25259/CSDM_2_2022
How to enhance your profile on academic portals, social media, and personal websites?
1
Department of Physiology, Fakir Mohan Medical College and Hospital

,

Balasore, Odisha

,

India
2
Department of Physiology, Raiganj Government Medical College and Hospital

,

Raiganj, West Bengal

,

India

*
Corresponding author: Himel Mondal, Department of Physiology, Fakir Mohan Medical College and Hospital, Balasore, Odisha, India. himelmkcg@gmail.com
Received: , Accepted: ,
© 2022 Published by Scientific Scholar on behalf of CosmoDerma
Licence
This is an open-access article distributed under the terms of the Creative Commons Attribution-Non Commercial-Share Alike 4.0 License, which allows others to remix, transform, and build upon the work non-commercially, as long as the author is credited and the new creations are licensed under the identical terms.
How to cite this article: Mondal H, Mondal S. How to enhance your profile on academic portals, social media, and personal websites? CosmoDerma 2022;2:7.
Abstract
With the advent of online publication and indexing of articles in online databases, author profiling became an inseparable part of the publication. Although databases such as PubMed Central and Scopus maintain an author profile for their internal records, it is inadequate to reflect all the publications of an author. Hence, an author can open accounts in various academic portals for enlisting the publication, conference, achievements, and make a connection with researchers for collaborative work. Social media such as Facebook, Twitter, and LinkedIn can also be used for the dissemination of current research knowledge and make a network of professionals. In addition, personal websites and blog posts can also augment the credible presence of an author. In this review article, we describe how to enhance the online profile of an author in academic portals, social media, and personal websites.
Keywords
Academia
Branding
Networking
Social media
ResearchGate
Publons
Profile
INTRODUCTION
The career of a medical doctor primarily takes three avenues – treating patients either in government or private settings, teaching medical and paramedical students, and researching various topics. All the three avenues are interconnected and progress together with the advent of research in the basic and clinical wing.[1] For the advancement of science, the research knowledge is disseminated by publication in a suitable journal. Medical journals are now accessed by a huge base of readers thanks to the open-access online publication.[2] At present, the impact of a paper is judged both by citations in other research papers and mentions in other media such as newspapers, social media, Wikipedia, and blog posts.[3] Although, after publication, journals promote some of their papers on different social media, it is not feasible to highlight all the research publications. However, this can be handled by the author who published the paper. There are various online platforms where authors can promote their papers for a wider reach to make an impact. These platforms can be categorized into three groups – academic portals where published authors maintain their profiles, social media where researchers can be socially connected with an interested group of people, and personal endeavors such as a blog post and personal websites.[4,5]
In this article, we reviewed how an author can enhance their profiles in academic portals, social media, and personal web pages for wider dissemination of articles, improving personal and journal impact, and getting higher chances of collaboration.
RATIONALITY OF ONLINE PROFILES
With the advancement of email communication, we get updates about the new issue of a journal immediately and can browse open-access journals on smartphones and personal computers. The paywalled journals, if the subscriptions are bought, can be accessed from the library computers. As the journals became online, authors' details are also available along with the published article. Many of the journals are now encouraging the authors to use identifier such as Open Researcher and Contributor Identifier (ORCiD) that links the authors' online profile.[6] Some journals also suggest adding the social media credential to the publication. In addition, many of the journals add short biography which can be linked to a personal website of the author for a detailed contribution list. Hence, the online profiling of the author is an inseparable part of modern age scientific publications.
The online profile of a researcher can be maintained in three categories of websites – academic portals, social media, and personal profile in website or blog. Some of the portals are shown in [Table 1].[7]
Category
Title
Academic portals
ORCiD
Publons
ResearchGate
Google Scholar
Academia
Loop profile
Microsoft Academic
Impactstory
ScienceOpen
SciProfiles
Scopus Author ID
Social media
LinkedIn
Twitter
Facebook
Instagram
Personal endeavor
Blog post
Websites
Email
Bibliographic databases such as Medline, PubMed Central, or Scopus provide author profiling services on their database. However, published articles that are not indexed by a particular indexing database do not come under the author profile created in the database.[8] For example, the first author of this article has a total of 99 published articles, and among them, PubMed shows 37 articles and Scopus shows 34 documents as the other articles are not indexed by those bibliographic databases. This necessitates creating a presence where all the articles are enlisted with relevant links to the articles.
The internet has become inseparable from academic life.[9] The usage of social media makes online presence more interactive. A medical doctor who practices can enhance his reach to a wider segment of patients, a medical researcher or teacher can disseminate the research with groups and make a network for a fruitful collaboration. The networking not only helps in collaboration but enables the interested one being updated with new knowledge, updates about conferences, recent news coverage, etc. Along with individual authors, journals may also create and maintain their social media accounts for quick dissemination about newly published articles and updates including "call for papers."[10]
A personal profile like creating a website or blog can also help in the promotion of professional life. A well-maintained website or blog may enlist the research articles, teaching materials, instructional videos, and successful treatment stories.[11] The website can easily be integrated with social media for a better reach to peer groups or common people.
HOW TO ENHANCE ONLINE PROFILE
If we plant a lemon tree and leave it unattended on the roof, the tree may or may not survive due to lack of water or may not grow well due to lack of fertilizer in the soil. Hence, if we plant a tree, we must water it timely and add organic fertilizer for the desired growth. In addition, we should invite insects from a nearby lemon tree to get lemon. After opening a profile in an online platform, the profile should be regularly updated and there should be an engagement with the profile for optimum usage of the online profile [Figure 1]. The common practice to enhance the profile is summarized in [Table 2] and discussed individually in the following sections.[12-14]
Academic portals
Social media
Website and blog
• Use correct and uniform name across all the profiles
• Use a clear profile photograph.
• Update immediately after a publication, peer review, editorial work, new qualification, or achievements
• Edit if any erroneous publication is added to the profile
• Engage in academic activities (e.g., question-answer and response to a query in research) where allowed
• Interconnect various academic profiles
• Use real name and avoid fancy decoration in name
• Use a clear profile photograph
• May maintain a separate profile for personal and professional purpose
• Do not post any personal matter in the professional profile
• Visit regularly and engage in academic discussion
• Make connection
• Update all your achievement
• Interconnect with other social networks and integrate with author profiles
• Share success stories with those who would like to enhance practice
• Use a professional-looking theme, URL, and simple fonts
• Add a biography along with a photograph
• Update with frequent interval
• Post about topic related to research and recent updates
• Make your contact email or phone number active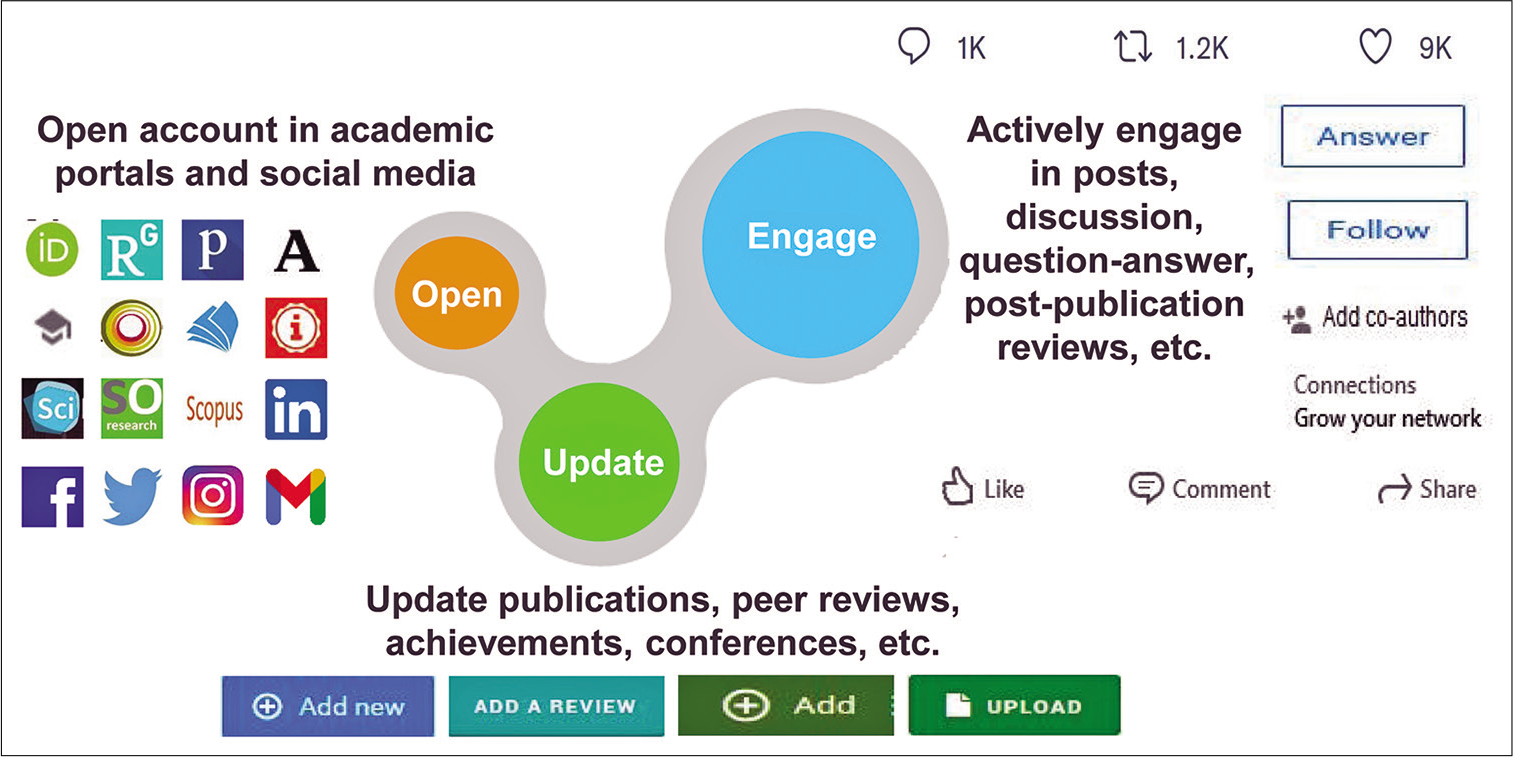 PERSONAL ENDEAVOR
Personal website
A researcher can maintain a personal website to enlist the publications, awards, achievements, success stories in treatment, patients' feedback, etc.[33] However, many a time, the websites are created with enthusiasm but later, it is not updated and it is difficult to contact the researcher or the doctor from the website contact details. Those who decide to open the website should be aware of the yearly charges that need to keep the website online. The website links can be used in various author portals or social media and can be used in short author biography published with journal articles.
Blog post
Those who cannot afford a personal website can use blogs for creating their online personal profile.[33] The blogs should be content rich for acceptance by peers. A regular post with an emphasis on the current topics would attract more visitors. Blog posts should be augmented by related images, audio clips, or video clips. Using a simple theme and organizing posts under different categories help readers easy navigation through the blog.
Email
Although email is not a part of the core topic of this review, some email behavior may make an impact on the authors' profiles.[34] Using a signature with non-fancy fronts along with degrees, position, institution, and author profile credentials such as ORCiD or Publons link has the potential to increase traffic to the profiles. This helps increase the chance of future collaborative opportunities. Always use grammar correcting software for avoiding unintentional errors.[35]
CONCLUSION
Author and researchers can maintain a profile in three broad categories of channels – academic portals, social media, and personal websites and blogs. These profiles help building credible online details of authors and practicing doctors. Opening the account is merely helpful for an optimum reach and impact. Hence, authors should regularly update the profiles and keep engaged with the networks for enhancing their online presence that may help in higher impact of the research.
Declaration of patient consent
Patient's consent not required as there are no patients in this study.
Financial support and sponsorship
Nil.
Conflicts of interest
There are no conflicts of interest.
Show Sections